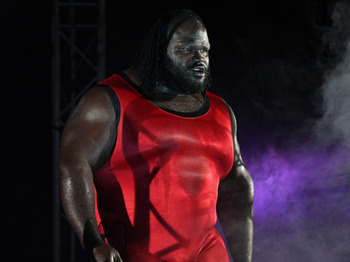 He's billed as the World's Strongest Man. Gimmick aside, he really is the strongest man in this company. Let's stop talking about Mark Henry the professional wrestler and former world champion in WWE. Let's talk for a moment about Mark Henry, the former Olympic weightlifter and strongman competitor.
Mark competed in the first ever Arnold Strongman Classic in 2002 and won the competition, beating seven other men. Five of those men have qualified for the famed World's Strongest Man competition, including two former winners of that contest. Henry competed at both the 1992 and 1996 Olympics and medaled at the Pan American Games.
Henry has always been this strong, setting state records during his years in high school. Once he began competing in Olympic-style weightlifting, Henry broke three American junior (20 years old and under) records - 12 times over.
Now, if you want to go back to his WWE time for a minute, Henry once needed to force himself into a steel cage match, but the rigged cage door was not breaking. Henry proceeded to go to an actual steel chain, not a rigged one intended to break, and snapped it in order to make it inside.
WWE Randy Orton Untouchable Large T-Shirt. Buy it now
(ads from amazon.com)
2)Big Show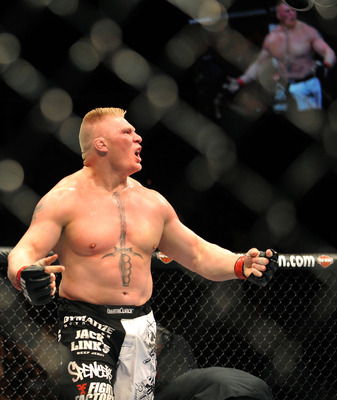 The World's Largest Athlete is a very strong guy. He once forced a jeep to flip over during his stint in WWE.
He can also pick up and slam down just about any guy with pretty good ease.
Go ahead and tell Big Show that he isn't one of the strongest guys in WWE history. See what happens.
3)Brock Lesnar
The former UFC heavyweight champion is strong. He won't tell you it. You'll just see it happen.
Brock Lesnar was a freak of nature upon his debut and has used his strength to excel in WWE, nearly make it to the NFL, and become a top star for a time in UFC.
Lesnar is the poster child for using brute strength to get whatever you want. He doesn't do much more than use his body strength to pull off incredible moments. Even if you watch his matches against lighter individuals, the fact that Lesnar can practically deadlift those men and toss them around at will is incredible
.
4)Booby Lashley
though you cannot find him he was in the list only because of some impressions i had on this man. he is the first man ever to break the master lock surprising the world and he has done many impressive things in wwe that he continued in TNA
5)Batista
Batista , though his power was not displayed in many situations like others. he is really strong to compete against any opponent, the words of The Undertaker about batista tells about the strength the undertaker saw in Dave Batista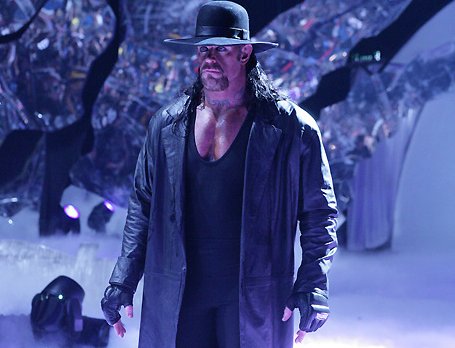 6)The Undertaker
the undertaker is the best in the bussiness not only today but throughout the history, his huge of moves tells us his strength, he had innumerous battles with mark henry , big show and many of the toppers in this list which he faught easily with his skill. you can see his power well executed when he lifted the WSM Mark Henry with ease to give a tombStone Pilediver which is one of the Best finishing moves in wwe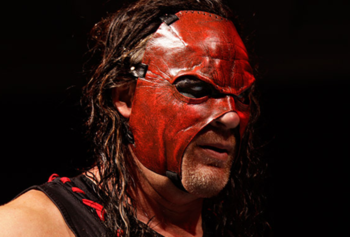 The Big Red Monster seems stronger than ever since returning with his mask.
Kane was edgy and lost some steam, which may have prompted the loss of a mask. Now back with a creepier mask, Kane seems to be as strong as he has ever been in his long WWE career. A former WWE and World Heavyweight Champion, Kane is one of those great superstars who doesn't have as many accolades as the rest of his competitors from this era.
That does not take away from how strong Kane is. Kane is like that really good power hitter in baseball who may not have as many incredible stats in his career. There is respect for Kane's strength and fear when they face him
8)The Game HHH
he is the strongest in the bussiness since his debut, he has done great fights with some big strongest and unbelievable people, though i have no reasons to show his strength, he is some damn strong one and in addition to that he has some great resilience that makes him a member in the Top resilient wrestlers in WWE
ads from amazon.com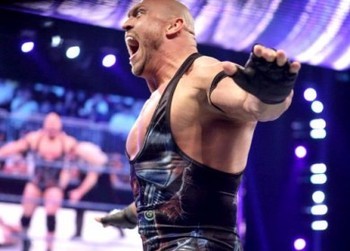 Ryback suffered injuries that kept him out of action for roughly a year. It still did not lead to a pink slip for him.
Translation: there is a lot to be excited about from this guy.
Ryback showed incredible strength in his two squash matches to this point. Hopefully that trend continues once regular roster members are the ones that are on the other end of those moves.
There is a lot of potential yet to be unsurfaced for Ryback, which makes it scarier to think about what this guy could accomplish. With good luck and hard work, the sky could be the limit
John Cena gets criticized like few superstars in history ever have. There is one thing that you cannot deny and that is Cena's workout ethic.
Cena is constantly lifting weights and is near a world-class level with his weightlifting. CM Punk was correct a year ago when he said that Cena attempted to become a bodybuilder and became a WWE superstar instead.
Still, Cena has had the desire to be a pro wrestler since a young age, and even if his technical skills don't allow him to be a man of 1,000 holds, Cena has always had the desire to change his offense and adapt with new moves for his arsenal.
Cena cares enough about the product to do whatever it takes and put up with many negative comments about his career. His physical strength is incredible, but his mental strength is about as good as they come.Check JC's My Time is Now position in Top 10 wwe music category.
WWE John Cena Medium T Shirt Buy it now
from amazon.com
Related Posts :
1)top 10 finishing moves in wwe
2)top 10 Submission moves in wwe
3)top 10 high flying moves in wwe
4)strongest men in wwe
5)top 10 wwe entrance music download here
6)top 10 resilient wrestlers in wwe
7)best superkicks by Shawn Michaels
8)Top 5 Agile Wrestlers in WWE
9)Best WWE matches in the history
10)Best Ladder matches in the history
11)Best Hell in a Cell matches in the History